I want to tell you guys a little bit more about my new blush brush and the company behind it: Ecotools.
It turns out to be very hard to find some information about the brand. I'll tell you guys what I know and if you can add some more information, that would be really great.
Ecotools is an American brand that sells beauty & bath tools, bath & body products and cosmetic bags. Not something special if it weren't for the fact that it's a very eco-friendly company.
Their products were never tested on animals, the bath & body products are paraben and phthalate free and everything is 98% natural. Ecotools has also won several awards (
PETA Proggy Awards
, Australian Beauty Awards, ...) and is
1% for the planet member
, which means that they donate 1% of their sales to a network of environmental organizations.
"This earth-friendly brush shows respect for the planet:
* Bamboo handle has a low impact on the earth's resources
as it is a highly sustainable plant
* Synthetic Taklon bristles are 100% cruelty-free
* Sleek ferrule is made from recycled aluminum
* Reusable storage pouch"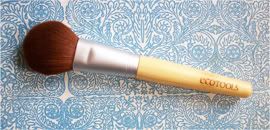 I think this is the best blush brush I ever owned. It's so extremely soft and keeps it's shape and softness (even after several times of washing it). But knowing that this brush is so eco-friendly, that's the most important to me. I really want to replace all my other brushes with Ecotools brushes, because they're the best!
Here's the link to the selling points:
Ecotools selling points
. I can't really help with selling points outside the US (exept for the online shops), because the list only shows the countries and no stores. I can only tell you guys that I bought my blush brush at Galeries Lafayette, when we made a
trip to La Rochelle in July
. I've really got to make another trip to France.